Upcoming News & Events
Saturday, August 19th - Bodacious Chicken Barbecue!
Rave's will be hosting the most bodacious chicken barbecue ever! Tickets may be purchased at Rave Discount Plant Center - adults $10.00, children 12 and under $5.00. All proceeds to benefit the Mt. Zion and Franklin Township Fire Departments. Barbecue served from 11:30am to 5:00pm.
***
September 6-10th - Luzerne County Fair
Visit our bodacious booth at the Luzerne County Fair. Enter a raffle to win a free butterfly garden and a $200.00 dinner voucher to the Beaumont Inn Botanical Gardens.
***
September 16th & 17th - Rave's Marketplace
Food, wine, song, and over 20 vendors combined with the most bodacious plant sale in the world! Tons and tons of mums, cornstalks, pumpkins, gourds, hanging baskets, and fall decor!. Check back or visit us on Facebook for upcoming details.
---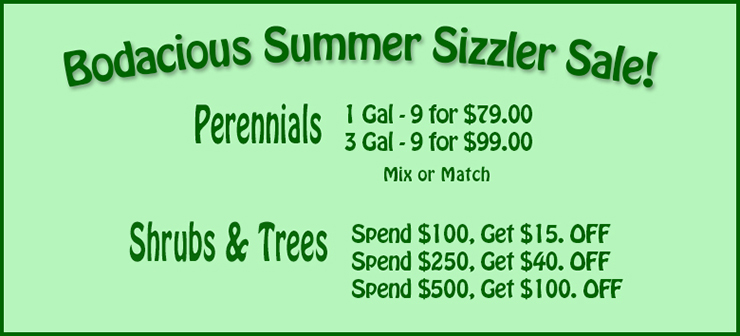 ---
In Bud and Bloom
---
All Season thru October
DIY Landscape Design - Monday thru Saturdays
We help design a DIY landscape plan for you as well as walk you through our plant nursery. Bring pictures and measurements. Call Callin at (570) 674-2845 to schedule.
Weekly Plant Giveaways - Like and share our Facebook plant posts from Rob Rave to be entered. Plant chosen and posted each Monday on Facebook with the drawing to be held every Friday. Three winners chosen each week.
Milkweed Seed Giveaways - The monarch butterfly population is in decline and cannot survive without milkweed. We are helping support their population growth and migration by offering free milkweed seeds to all customers. This will also provide a great habitat for other pollinators as well.
---
Over 130 Bodacious new perennial varieties!
We are excited to welcome the arrival of many new and unique perennial varieties for 2017. There are also some new evergreen and flowering shrub varieties for this year as well. See the complete list here
---

Offering unique design and vision by Rob Rave, we'll create a landscape plan to maximize the form and function of your home or business, customized to your budget.

Landscape Consultation | Photo Galleries | Plant Health Care & Maintenance | Contact